Car Crusher Service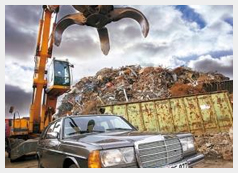 We offer the best environmentally responsible car crushing services in Edmonton, Sherwood Park, St. Albert, Leduc, Beaumont, and Stony Plain. People often ask why should be recycle Junk Car in Edmonton? The answer is very simple. According to the Environmental Protection Agency, recycling of an unwanted vehicle uses 74 % less energy than making new steel. We are one of the most established and largest car crushers in Alberta providing junk auto buying services in addition to auto crushing services.
Did you know that a junk car is made of more than 50% steel? At the same time the demand for scrap metal has been rising every year. With millions of tons of steel from cars being scrapped every year, it can be deduced that auto recycling is a booming industry. We are one of the established auto recyclers in Edmonton, and we also offer used car parts to our customers at a fraction of the cost. If someone is wondering "where can I get cheap used car parts in Edmonton?" Call us and we will be more than happy to serve you. Our junk car disposal services are eco-friendly and we offer top prices and prompt CASH payment for scrap autos.
Car Recycling
When a vehicle is too costly to repair or car has been written off by insurance, your automobile still has value in that it is a source for spare parts and a source of recyclable metal. Do the environmentally responsible thing by selling your junk car for cash to us and we will transport it to scrap yard in Edmonton. Car Recycling needs to be done with care so no harm is done to the environment. We ensure that the car disposal and car crushing services are eco-friendly and contributing to the environment instead of harming it.
Car Scrapping
Do you know what 'Retire your ride' program is? You will receive money to trade in your old vehicle for a new more efficient one. The government has plans to renew the Retire Your Ride program. If that happens, and you own a vehicle that no longer runs, you may be eligible to earn money. Scrap your unwanted vehicle, call us and we will take your scrap auto and give you top cash value for your junk vehicle. Make the most money off your old clunker by calling us anytime. Call now for any FREE car crushing quote or current scrap metal prices.
Donating car for tax deduction in Edmonton Alberta is one way of disposing of your vehicle